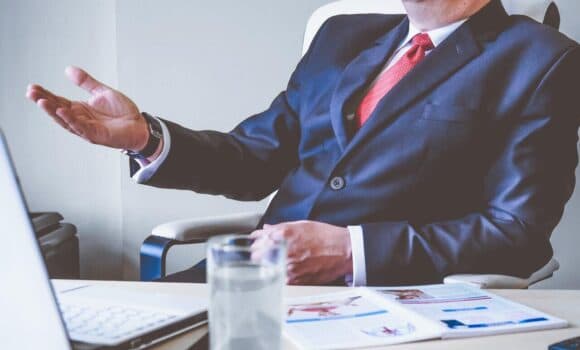 How to Market into the C-Suite
If you've determined you need to reach the C-suite with your marketing, here's what you need to know to market effectively.
People want to head straight to the top, and no wonder: The people in the C-suite at corporations have the final say in approving budgets, making strategy, and overseeing the company's direction.
Who wouldn't want to get in front of people with this breadth of agency?
For all these reasons, the FrogDog team often hears from companies that want to reach out to C-suite executives with marketing, and we regularly get questions from companies far and wide about how we'd recommend they effectively reach the C-suite.
Here's what you need to know if you think your company needs to market to the C-suite.
Do You Really Need to Market to the C-suite?
If you target small and smaller medium-sized businesses with your marketing, then you likely do need to market directly to the C-suite: The C-suite at these companies typically make all the big decisions for their businesses. The size of these businesses means that they are, by and large, very closely held by owners and top management.
If you target medium-sized and large corporations, members of the C-suite are not likely to be the best target audience for your marketing efforts. C-suite executives in corporations of these sizes rarely evaluate and select products, services, and firms. Instead, while they may decide that they need to make a change or to implement something new, they will delegate the work to identify what exactly to do and with whom to work to other people within their organizations.
In the latter cases, the target audience for your marketing is likely to be someone else in the organization—not a member of the C-suite. However, you may need to give these target audience members the tools they need to sell your company and its products and services up to the C-suite after they've made the decision to work with you.
Remember the C-suite's Priorities
If you determine that the C-suite is truly the intended target audience for your marketing, you must keep the areas of focus for C-suite executives top of mind at all times when crafting your marketing. You must understand the roles and perspectives of C-suite executives to understand how to influence them.
C-suite executives are focused on their companies' top and bottom lines and on setting and overseeing company strategy and results. Other members of a company's leadership team take segments of the strategy and work to execute them according to plan and with an eye toward achieving corporate goals.
For your marketing to succeed with the C-suite, it must directly address these areas of focus. How will your business, product, or service affect the C-suite member's company from a high-level strategic and financial point of view?
In other words, let's assume you have an enterprise-level software system that would require a major capital investment, but which could streamline entirely a company's operations. When marketing this program to the C-suite, you shouldn't get down into the weeds on your platform's seamless integration with other platforms or its award-winning user interface.
Don't get us wrong: These are fabulous features and benefits, and they can make or break a software system. However, they won't get the C-suite's attention. What will? Data about how much time and money your software system saves companies, on average, within a year of implementation.
Focus on the Right Tactics to Reach the C-suite
When considering what types of marketing to undertake to connect with a C-suite target audience—what strategy and what tactics will reach them effectively—remember the following:
People in the C-suite are one of the most inundated groups of target audiences.
With layers of gatekeepers protecting their time and attention, people in the C-suite are one of the most well-guarded groups of target audiences.
Of all the people in any organization, people in the C-suite have the least amount of time to spend filtering through marketing.
Again, the C-suite relies on its team to help winnow down the best options—and even make the selections—for products, services, and companies that will help them in achieving strategic objectives.
However, if you've determined that you must reach the C-suite to succeed, your best bet is to execute your marketing in areas where the C-suite is already allocating its time and attention:
Publications and broadcast media. Traditional content marketing is not the best way to reach the C-suite. Yes, C-suite executives read a great deal, often from already-trusted external sources and from internal reports. However, they have limited bandwidth to add new material to their reading lists—unless it comes highly recommended from someone they already know and trust. Therefore, you must get paid or organic placement in media outlets that C-suite members in your target industry already have on their reading lists, be these newspapers, e-mail newsletters, podcasts, television and radio programming, or the like.
Events. Certain events—business and otherwise—target and attract C-suite executives across industries and within industries. Attending, sponsoring, and advertising at these events will have a lot of value for companies that target C-suite executives. After all, there's a reason that large corporations selling high-dollar consulting services and expensive technologies advertise at internationally followed golf tournaments (for one example).
Trusted advisors. Relationships are critical for C-suite audiences. C-suite executives need trusted advisors—and they actively seek out the advice of these key people when they have a question or need a recommendation. Also, they lean heavily on their respected peers in the C-suites of other organizations. The more your marketing reaches people in the C-suite wherever they are—whether on vacation, buying products and services for their personal and family lives, participating in their hobbies, contributing to their chosen philanthropic causes, and beyond—you will achieve critical reach and frequency to move the needle with this target group.
Are these tactics expensive? You betcha.
You won't get in front of the C-suite without a sizeable marketing budget.
Also, remember that a C-suite audience works long hours. Your best bet to connect with them when they're a little more open and relaxed is to reach them when they aren't in the thick of the workday.
Consider tactics and activities that reach out to the C-suite in the early mornings, in the evenings, and on the weekends—yet be gentle and respectful. Members of the C-suite are as guarded about their time with family and friends as they are with their time at the office. If you reach out to the C-suite in the "off" hours (although we all know this audience is never fully "off"), focus on soft sells, relationship building activities, and tactics that aim to make their lives easier or more enjoyable in some way.
C-suite Marketing Seems Overwhelming?
Reaching the C-suite takes careful strategy, planning, messaging, and a strategic investment of critical marketing budget and time. Yet if you've determined that your company's success hinges on C-suite activation through marketing, you must take the care needed and budget the funds required.
And you shouldn't go it alone. If you'd like to reach the C-suite with your company, products, and services, schedule a consultation with FrogDog.