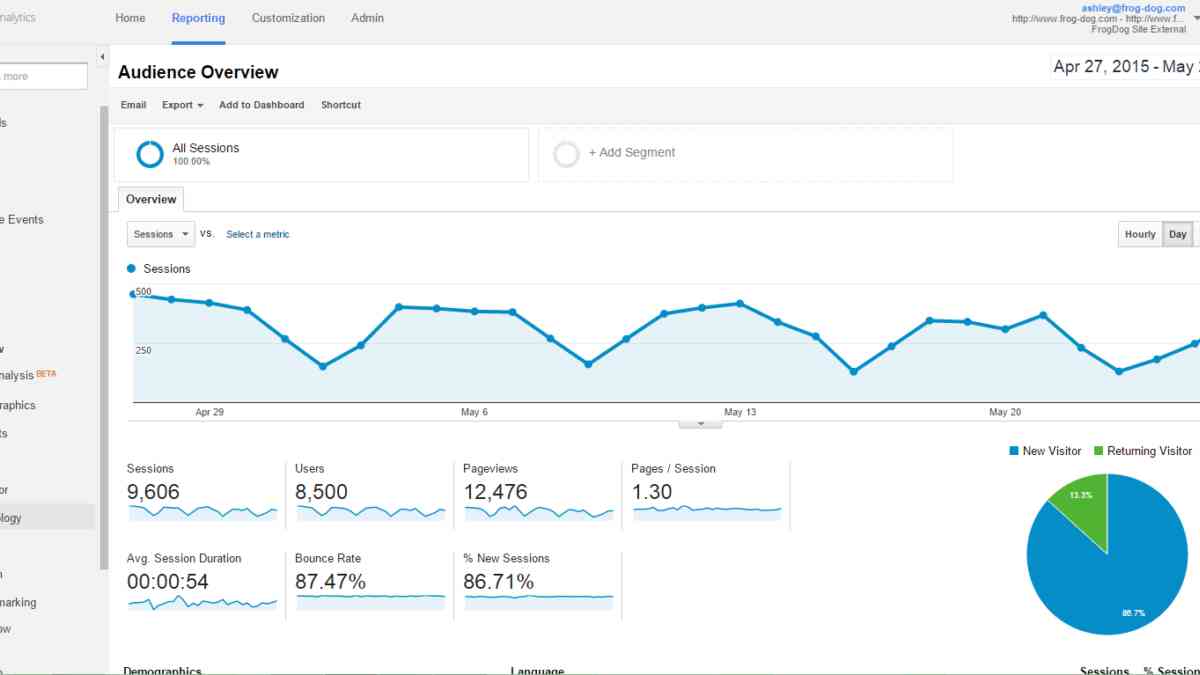 Google Analytics: A Guide to the Basics
Google Analytics is a free tool that has tremendous potential. What can it do? What can't it do?
Websites are critical to business in the 21st century—very few companies can do without one.
Yet a website is a tool—and it needs to work. How can a company know whether its website is achieving its goals? (And first: Do you have goals that it's designed to hit? If not, better start with a marketing strategy!)
Google Analytics is a free service that allows you to view detailed statistics about your site's traffic, sources, and sales. It is fairly easy to install on your website and can provide you with a multitude of helpful information when used correctly and strategically.
What Google Analytics Can Measure
Google Analytics has four major reporting sections:
Audience includes information about demographics, interests, geographical information, technology, benchmarking, and frequency on the site. Collecting this information can help you learn about your existing visitors and understand whether your campaign is reaching the target market.
Acquisition includes information about traffic sources, AdWords, social referrals, and campaigns. Identifying how visitors arrive on the site will help you measure the success of one campaign versus another.
Behavior includes information about visitors' flow on your site: the site's content, speed, and search; events; and in-page analytics. Information gathered on behavior can help you find ways to optimize how your site looks and runs. Further, you can learn where to make changes to ensure your visitors reach the target destination.
Conversions includes information about goals, e-commerce, product performance, purchase paths, assisted conversions, and attribution. You can set specific goals to measure the success of your campaigns. Data in the Conversions section can help you evaluate the purchasing behavior of your customers and discover why visitors are not converting into customers.
What Google Analytics Cannot Measure
As robust as Google Analytics is as a tool, it has its limits:
You cannot track personally identifying information such as IP addresses, email addresses, usernames, or real names for visitors to your site.
Google Analytics cannot backdate information. For example, if you begin your Google Analytics tracking on January 1 but do not activate conversion tracking until February 1, there will not be conversion data for the month of January.
Important Google Analytics Considerations
Excited about the possibilities for Google Analytics? You should be—it's an amazing tool that's changed the lives of many marketers. However, there are a few points to keep in mind as you proceed:
Google Analytics is not 100 percent accurate. Many browsers may have cookies or Java disabled, which means Google Analytics cannot record their activity. Further, the placement of the Google Analytics tracking code on your site can impact what is recorded. And when multiple visitors use the same device, or when the same visitor uses multiple devices, Google Analytics results will skew.
Certain Google Analytics features are not automatically available. Many features must be activated and some require additional coding, such as user demographics, in-page analytics, goals, conversions, and AdWords.
Digital campaigns require tagged URLs for measurement. Google has an easy to use URL builder which will help you differentiate your campaign links, which is an easily overlooked step that's critical for successful measurement. And as Google Analytics does not backdate information, you must tag URLs prior to launching the campaign for you to effectively gather metrics.
Google Analytics can be a very insightful tool when used knowledgably. FrogDog has Google Analytics Certified staff on our team that can measure the success of the strategy we create custom for your business. How can we help you?
Posted:
May 13, 2015
Updated:
Aug 13, 2020